Starting with 2012, Fraunhofer Institute from Stuttgart has a new Centre for Virtual Engineering envisioned by Dutch architectural design studio UNStudio (United Network Studio) founded in 1988 by Ben van Berkel and Caroline Bos and specialized in architecture, urban development and infrastructural project. The Centre is located on the research campus of the Fraunhofer Institute and its specialisation is to investigate different multidisciplinary work flows.
UNStudio worked with Asplan from Kaiserslautern on the architectural services for the Centre, the development of the construction documents and the site supervision being Asplan's responsabilities for this project. The Centre for Virtual Engineering is showcasing a new type of building which incorporates a contemporary architectural vision that understands better the new working environments and stimulates new ways of working in the future.
Thus, the primary focus of this extremely functional and aesthetically attractive design concept is on communication which leads to new creative ways of working at all levels by changing the traditional separation of departments into open and flexible work spaces with extensive visual connections and shared work stations based only on the needs of the employees.
Reflecting the highly innovative nature of the operations it conducts, the architectural features of the building emphasize simplicity, creativity and sustainability above all. It is ingeniously created so that the public exhibition and scenographic routing of the visitors are combined with the laboratory and research functions.
The geometry of the floor plan and geometry of the facade maintain the impression of a permanently transforming surface. The building ensures an extraordinary sustainability level through energy saving installations, recyclable materials and overall low-maintenance requirements, for which it was awarded a Gold certification by the German Sustainable Building Council (DGNB).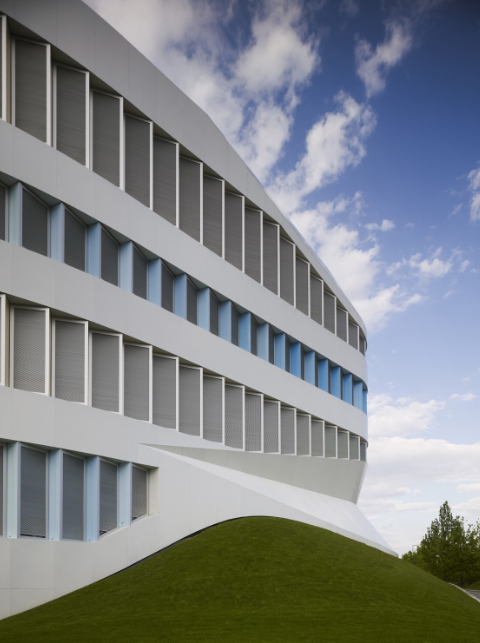 Photos: © UNStudio.
Project details:
Client: Fraunhofer-Gesellschaft zur Förderung der angewandten Forschung e.V.
Location: Fraunhofer Campus, Nobelstrasse 12, 70569 Stuttgart
Building surface: GFA 5.782 m2
Building volume: 27.221 m3
Programme: Offices and laboratories
Status: Realised