Welcome to interior designer Broosk Saib's apartment in London which initially displayed a theatrical, Victorian look, with floral wallpapers, a four-poster bed and heavy ornamentation and a great golf estate park view city. After redecoration, the new look of the apartment have a colorful approach to traditional British style. The aim was to create a quieter and less cluttered space. The apartment features prints of European kings and queens, a framed embroidered waistcoat from the 18th century, large British paintings also from 18th century hanging on the walls, vases picked up by designer while traveling in China and India, custom finished walls, English antiques that are beautiful reproductions, custom made sofa and wing chairs upholstered in velvet that are soft and inviting. Much of the furniture and lighting has been designed to move nomadically about the multifunctional space.
The dining room has a walnut dining table surrounded by chairs upholstered in Union Jacks and in leather with an antique chandelier hanging above. By day it is used as an office and a place where designer meet his clients.
The Regency-style table from the entry hall is a reproduction and the sculpturewas taken from the Portobello Road antiques market. Sometimes the entry hall's hanging light fixture is taken down and the table is moved to make way for as many as 70 guests; the walls of the drawing room reflect the warm, clubby glow given off by lamps with red-silk shades.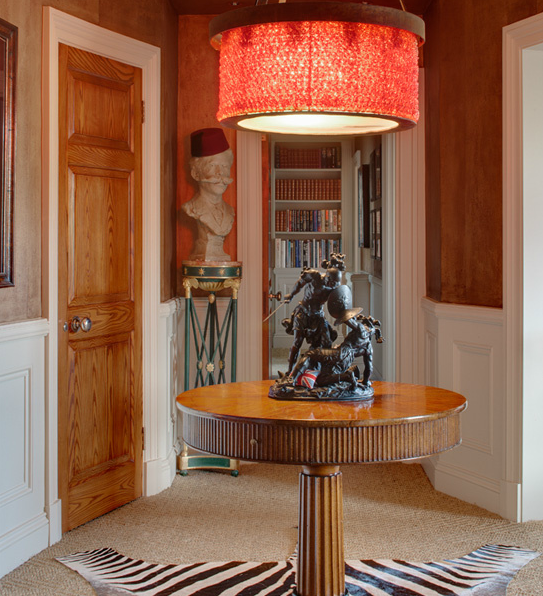 Photos source: Broosk Saib.